Step and Repeat Banners
Popup Stands UK not only offers an unbeatable range of portable exhibition stands but we also supply a fantastic range of step and repeat walls. These branded media walls are popular at promotional or red-carpet events, parties and press conference. The freestanding backwalls commonly display several logos which are repeated over the entire backdrop. There are different options available depending on size requirements and budgets. So whether you need a 2m or 10m backdrop we can supply a stunning visual display to suit your requirements. Call our sales team today on 0116 2047747 for more details.
2m Wide Step and Repeat Banners
2m wide step and repeat banners are ideal for smaller events with limited space. The display is ready to use in under 10 seconds as the printed banner graphic simply pulls out of the sturdy aluminium base unit and is held securely in place with two rear adjustable support poles. The maximum width of the V4000 pullup banner stand is 2400mm wide x 2230mm high, but the height can be reduced from anywhere between 1590mm and 2230mm by adjusting the rear telescopic support poles. The banner is also supplied with a padded carry bag so it can be safely stored/transported when not in use.
The V4000 roller banner is available in the following widths – 800, 1000, 1200, 1500, 2000 and 2400.
| | | |
| --- | --- | --- |
| Available Widths | Weight | Price |
| 800mm (w) banner with full colour print & bag | 5kg | £159.00 |
| 1000mm (w) banner with full colour print & bag | 5.5kg | £179.00 |
| 1200mm (w) banner with full colour print & bag | 6kg | £199.00 |
| 1500mm (w) banner with full colour print & bag | 8kg | £225.00 |
| 2000mm (w) banner with full colour print & bag | 10kg | £285.00 |
| 2400mm (w) banner with full colour print & bag | 12kg | £305.00 |
3m Wide Step and Repeat Walls
We offer a number of different solutions for 3m wide step and repeat walls including pop-up stands, hop-up stands and Formulate fabric displays. All of our options are highly portable and pack down into either a hard wheeled case or fabric carry bag.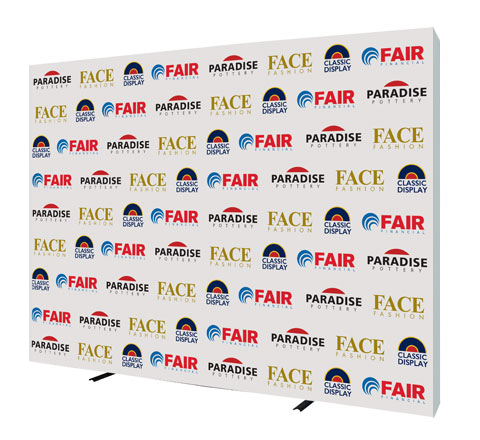 3m Wide Embrace Logo Walls
3m wide Embrace stand is approx 2255mm high and combines a highly portable, collapsible framework and a one piece fabric banner. It is lightweight, easy to erect and provides an unbeatable crease-free finish. Perfect for photoshoots, exhibitions and media events the stand is initially offered as a single sided backwall with end panels, but can easily be turned into a double sided display.
If you require a continuous seamless backdrop greater than 3m, frames can joined together using our unique linking kits. There is also the option to connect frames at 90-degree angles, ideal for corner and L-shaped backwalls.
Prices include printed banner to front and sides and a carry bag. Stabilising feet available for £14.00 a pair. Please contact us for double sided covering.
| | | |
| --- | --- | --- |
| Available Widths | Weight | Price |
| Embrace logo wall 1500mm | 13.5kg | £499.00 |
| Embrace logo wall 2240mm | 15.5kg | £599.00 |
| Embrace logo wall 3000mm | 16.5kg | £709.00 |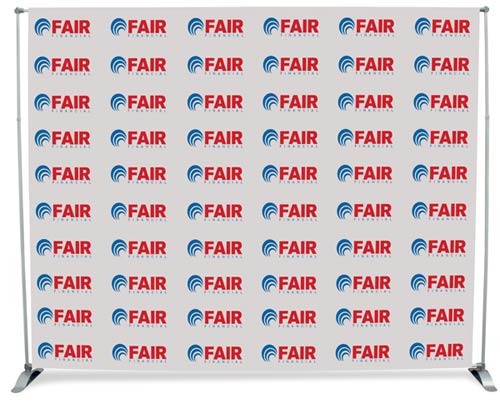 3m Wide Pegasus Banners
The Pegasus is another popular choice for those looking at a simple yet effective branded backdrop. Perfect for clients with a limited budget the large tensioned banner assembles without the need for tools and offers exceptional value for money. It can be used at indoor and outdoor events making it an all year round marketing tool. Additional banner vinyls can also be purchased and frames can linked together to provide greater coverage.
Prices include adjustable telescopic poles, full colour banner vinyl and carry bag.
| | |
| --- | --- |
| Popular Sizes | Price |
| Pegasus banner 2400 (h) x 2400mm (w) | £299.00 |
| Pegasus banner 2500 (h) x 3000mm (w) | £379.00 |
Do you need a different size banner? We can print graphics in between the following sizes to suit your requirements:

Height: 1840mm ↔ 2600mm
Width: 1430mm ↔ 3200mm
6m Wide Step and Repeat Walls
6m wide media walls can be used for any occasion where a larger branded backdrop is required including sporting events, press conferences and award ceremonies. Generally, a selection of logos are repeated over the entire wall and positioned in either a straight line or diagonally. There are several different solutions and stand types all with varying heights and features, but below are two of our best sellers. Both options can be easily transported to and from events and are stored in either a hard wheeled transit case or padded carry bag.
Straight Popup Stand Walls



Straight pop-up stands are supplied with premium full colour graphics which are coated in a scratch resistant, wipe clean laminate. The seamless backdrop is made up of individual panels, which are attached to the concertina framework using slimline magnetic bars. The panels are positioned side by side to give the appearance of one uninterrupted wall of graphics.

Pop-up stands are 2225mm high and include full colour graphics, stabilising feet and a hard wheeled case.


| | |
| --- | --- |
| Popular Widths | Price |
| 5000mm | £989.00 |
| 6000mm | £1119.00 |
| 7000mm | £1399.00 |
Note: above prices exclude spotlights and case tabletop/case graphic. Full exhibition packages available.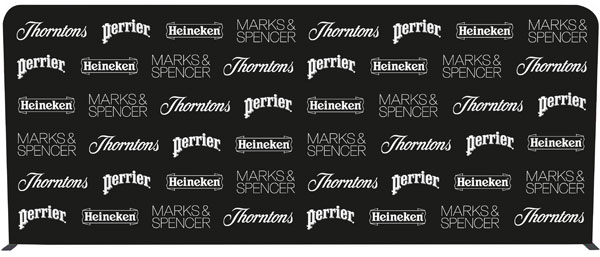 6m Wide Formulate Stand

Weighing only 10kg the 6m wide Formulate incorporates a sock like fabric banner which slides over the top of a robust tubular framework giving it an impressive crease-free appearance. Extra fabric covers can also be purchased allowing the stand to be used for different events.

The stand is 2380mm high and includes a double sided fabric banner & carry bag.


| | |
| --- | --- |
| Available Widths | Price |
| 2400mm | £439.00 |
| 3000mm | £495.00 |
| 6000mm | £949.00 |
All prices exclude delivery and VAT
Sizes and weights approx.