Popup Stands UK is one of the UK's largest suppliers of popup display stands and popup reprints. We have many years' experience and know-how allowing us to produce the highest quality replacement graphics for almost any brand of popup! This cost effective option is for anyone who has existing hardware and just needs to replace their printed message. An Ideal solution for when companies re-brand or initiate new product ranges. We can print for almost any size stand including 3x1, 3x2, 3x3, 3x4 and 3x5 with each replacement graphic panel including all the necessary hanging kits and magnetic tape.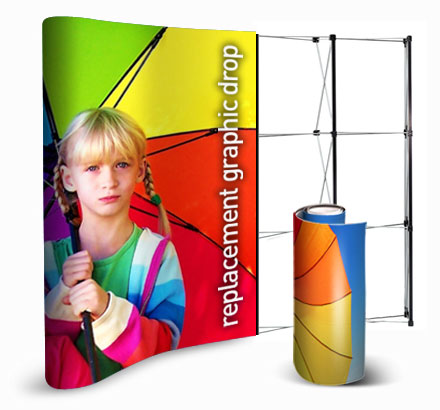 WHY CHOOSE OUR POPUP REPRINTS......
All digital printing is performed in-house using our advanced large format HP machines and using original HP inks with ultra violet light protection. Our media is UK manufactured to strict ISO values and has rear aluminium backing to avert light distortion from behind. All replacement popup graphics are completed with a scratch resistant laminate adding to their longevity. These long-lasting popup reprints are perfect for long term usage and can be reused at exhibition trade shows year after year. We offer internal creative and print services meaning we have total control over quality and turnaround allowing us to meet the shortest of deadlines. A colour matching service is also on hand so you feel confident that the end result will match any existing company branding or guidelines.

ILLUMINATED END PANELS ANYONE......?
If you are looking to create something a little different why no consider swopping your standard end panels for illuminated panels. These specially printed graphics are produced using a premium backlit material which is coated with a scuff resistant laminate to match the standard front facing graphics. Florescent strips lights are attached to the inside of the popup framework allowing a soft glow to penetrate through the transparent ends. This is a great way to stand out from the crowd, and with high quality and low prices why not call us today for more information.

We can produce replacement popup graphics for almost any system, including:


| | | | | |
| --- | --- | --- | --- | --- |
| | Ultima Evolution Quick | | | Plex Elite |
| | Ultima Impact | | | Plex Supremacy |
| | Ultima Evolution Express | | | Plex Elite |
| | Nimlok | | | Plex Advantage |
| | Nomadic | | | Easy Stands |
| | Premier | | | Abex |
We also offer a service for roller banner reprints so contact us today for more information and prices.
Call our sales team - 0116 2047757
Email your enquiry - sales@popup-stands-uk.co.uk