Pop-Up Display with TV Stand
Pinewood Technologies is a UK-based software development company that employs over 200 staff. It was first established back in the 1980s and the company has a dedication to developing agile management tools.
It employs more than 50 staff in its research and development team and has offices in Nottingham, Sunderland and Birmingham. It achieved Microsoft Gold Partner accreditation in 2003 and Microsoft Partner Network accreditation in 2011.
Pinewood was seeking a display stand that was not only stylish, portable and affordable but would also allow them to integrate a large TV screen. So after a brief chat with one of our sales team it was decided that the 3 x 2 curved pop-up with integrated TV stand would fit the bill perfectly!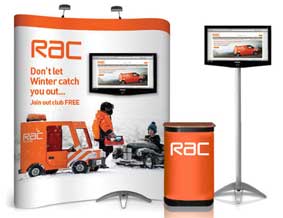 This impressive all inclusive package comes with a curved aluminium pop-up framework, fifteen quick fix magnetic bars, four premium full colour graphic panels, two halogen spotlights, one hard wheeled transit case, one freestanding TV stand and a case to counter conversion kit, which comes with beech worktop and graphic wrap.
This portable stand is perfect for attracting attention at trade exhibitions and they are ideal for presenting multimedia displays and visual presentations. It has the flexibility to be used as a stand-alone unit or as part of the main backdrop. If you are uncertain which model/make of TV would be suitable, our sales staffs are no hand to offer advice to determine an appropriate choice.
The displays have been designed to be practical so they are easy to assemble, taking around fifteen minutes in total and simple to transport. The TV stand is supplied in two individual padded carrying bags, one for the base and one for the pole. The 3 x 2 pop-up is packed in a hard wheeled drum and weighs approximately 25kg.
Our standard sizes are 3 x 2, 3 x 3 and 3 x 4 and the frameworks can be joined together to create larger runs.
The package price for this item is £1139 excluding carriage and VAT.
It is available for delivery within 3 to 5 working days and a lifetime guarantee applies to the pop-up frame and magnetic bars against manufactures defects.