Pop up Stands & Exhibition Counters for Shanks Waste Management
Shanks PLC is a leading Waste Management company that treats and converts waste to make valuable products. With around 3500 employees, the company operates in The Netherlands, Belgium, UK and Canada.
The company produces green energy, recovered fuel, recycled commodities and organic fertilizer by utilizing the solid waste coupled with latest sustainable and cost-effective technologies to serve several public and private sectors.
We are happy to have been able to deliver several stands and counters to aid them with their business operations.
1. Portable Exhibition Counter (Product Code: OPAL)
As the name suggests this stylish exhibition counter is portable with a semi rigid wheeled case. Putting this together only takes a couple of minutes, and doesn't need any tools and the two rear shelves provide some storage for leaflets and brochures.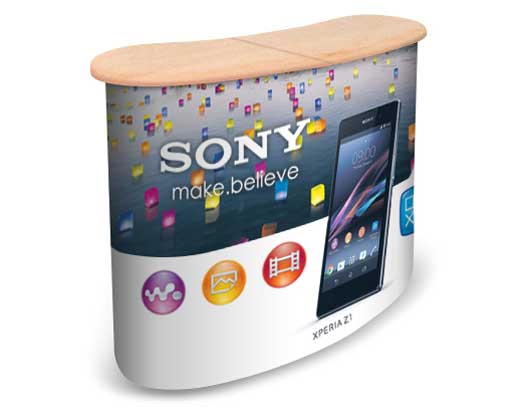 We sell the portable exhibition counter with a full-colour graphic wrap, and you are able to buy additional wraps to rebrand for different events. The counter weighs up to 12 Kgs and it's easy to store and transport.
The pop up or pull up banner is easy to erect taking a few seconds to set up. The banner is finished in a stylish silver anodised aluminium and comes with a folding three part pole, two swivel out support feet and carry bag.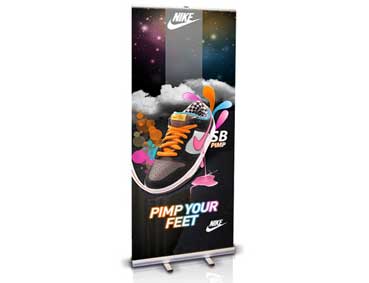 We use original HP inks for our banner printing, coated with a scuff-resistant laminate to keep it looking good as new for all time. The Pull Up banner measures 2m high and is available in a choice of 850 mm and 1000 mm widths.
Popup Reprints is a great choice among our customers for use with their existing displays. If you already have the pop up stand then why not order a new popup re-print. Doing this is a cost-effective way to change your advertising message or to promote a different product.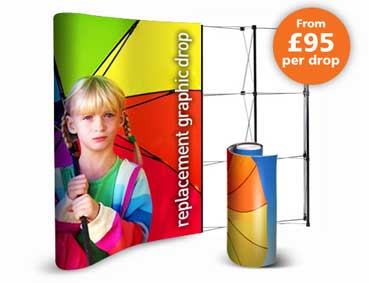 You can order for any size stand, and we will make sure that the graphics have the necessary top hangers and magnetic tape.