Straight Popup Stand with TV Mount for Chilworth Technology
Pop Up Stands UK has recently added Chilworth Technology Ltd, a UK-based company with offices in the United States, Italy, France, Spain and India to its list of clients
Chilworth Technology Ltd works with clients from a vast range of industries including law firms, aerospace, and pharmaceutical companies from around the world. They are a pioneer in safety processing and it presents a number of different training courses in the UK.
After talking to a member of the sales team, Chilworth Technology Ltd opted for the Straight 3 x 3 Popup with TV Mount. This unique display is perfect for presentations that include small TV or monitor screens.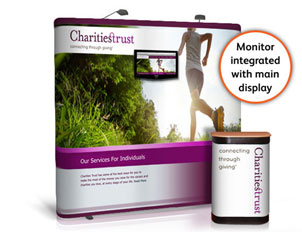 This option comes with a straight aluminium pop-up frame, eighteen quick fix magnetic bars, a monitor bracket, five full-colour premium graphic panels, a hard wheeled case, a pair of stabilising feet, a case to counter conversion kit and a pair of halogen spotlights.
Pop Up Stands UK have three standard sizes that include 3x2, 3x3 and 3x4, and exhibitors have the option of joining display stands together to create larger exhibition stands, including L-shaped systems.
It has been designed to be easy to construct and when fully assembled the display stands at a height of 2235mm, a width of 2700mm, a depth of 306mm and the case dimensions measure 960 x 600 x 395mm.
Pricing, delivery times and guarantee
The Straight 3 x 3 Popup with TV Mount costs £975, excluding carriage and VAT. Delivery times are between 1 - 5 working days and the framework comes with a five year guarantee against manufactures defects.
Further Information
Find out more about the product please click here.