Popup Re-prints for IAG
Popup re-prints - A cost effective way to rebrand your existing hardware.
The International Audio Group is an award-winning company that specialises in the manufacturer of professional audio equipment, lighting equipment and video products.
The company is one of the most respected in its industry and has recently moved into the luxury yacht's sector.
Sometimes when a company comes to us, they aren't looking to purchase a new popup package with the open expending framework, magnetic bars and wheeled case. They already have the hardware from a previous show so all they require are the re-prints, enabling them to rebrand their existing system.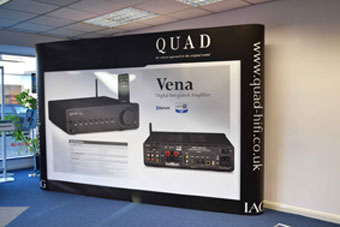 When the International Audio Group contacted us, they were looking for replacement graphic panels for their existing 3 x 4 straight popup stand, and we were delighted to be able to assist them.
We print all graphic reprints in-house using state of the art machinery and original HP inks. When the design and print work is completed the finished product is coated with laminate in order to make it scratch resistant to keep it looking as good as new. Popup reprints are suitable for long-term use, which makes the reprints perfect for companies that regularly travel to trade exhibitions and want something that can be used for years and years to come.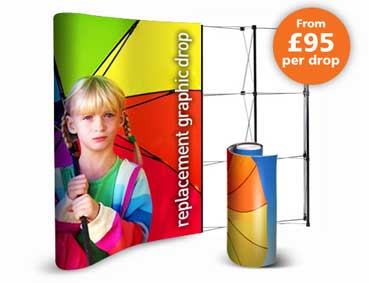 Another benefit of using Popup Stands UK for reprints is that we have an experienced production team available to begin work as soon as possible, enabling us to meet the tightest deadlines. By working in-house, it ensures that our customers get the highest quality of service possible in the shortest length of time.
Purchasers of the popup reprints also have the option of selecting illuminated end panels, to make sure that their display will get noticed. Call us for more details.