Exhibition Stands with TVs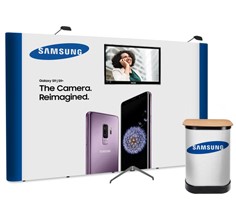 Popup Stands UK offers a unique range of exhibition Pop Up stands with TVs. These superb monitor stands can be positioned so they sit within the main pop up display or used as a standalone unit. It allows you to enhance your exhibition with ongoing visual presentations, projecting a more exciting and interactive message.
The monitor stand can be used with both our straight and curved frames and we supply custom graphic panels with each complete popup kit. All you need to do is give us a brief and we can design your display from scratch.
We are finding that exhibitors are always looking for new exciting ideas to integrate within their booths, so it was no surprise that when we launched our exhibition TV stands, they rapidly became one our best selling pop-up stands. Stun potential clients and project a message that really shows your company's vision!
Contact us today for more help and information.