3x3 Curved Fabric & Graphic Pop-up Stand - The Best of Both Worlds!
3x3 curved fabric and graphic pop-up stand for Winterhill School
Yorkshire-based Winterhill School has become one of our latest clients, we are pleased to announce. As well as providing high educational standards, and extra-curricular activities such as sports, the school works hard to instil a strong set of values in all of its pupils and it was recently praised by OFSTED.
Winterhill School were looking for a graphic and carpet covered pop-up stand that would be suitable for displays, and our staff were happy to assist in helping the school to determine which display stand would be the best to suit their needs.
The school purchased our 3x3 curved fabric and graphic pop-up stand, which combines full colour graphic end panels and Velcro friendly fabric covered front panels. This is the most versatile and flexible pop-up stand on the market as it allows for quick and easy poster change.
Our package includes 1 x curved aluminium pop-up frame, 18 x aluminium magnetic bars, 3 x Velcro friendly fabric panels, 2 x full colour printed side panels, a wheeled transit case and 2 x 50 watt halogen spotlights. The framework and magnetic bars come with a lifetime guarantee so our customers can buy with confidence.
When fully assembled, a 3 x 3 curved fabric graphic pop-up stand is 2235mm in height and it has a width of 2540mm. Our customers can choose from seven different front fabric colours and the poster display stand allows total flexibility.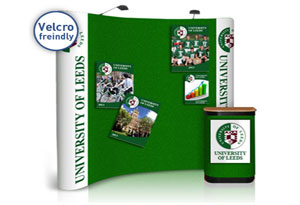 Choosing this display stand gives the buyer the option of combining a fabric display with graphic side panels and it has been designed so that it is built to last long term. Customers also have the choice of a straight or curved framework.
The 3 x 3 curved fabric graphic pop-up stand is easy to assemble without the need for tools and contains all of the accessories that you need to set up your display straightaway.
Our package costs £709 excluding carriage and VAT costs, and upgrades to convert the case to counter display are also available for a small additional fee.